Freedom from Food
A Quantum Weight Loss Approach
by Patricia Bisch, MA, MFT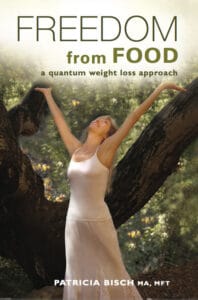 How long have you been wrestling with your weight? How many diets have you tried? How many times have you condemned yourself for being a failure because you think you're overweight?
Are you ready to stop struggling, enjoy eating, and still lose weight? Freedom from Food presents a revolutionary program designed by Patricia Bisch, who discovered the secret to regaining her power over food without deprivation. Built on the solid foundation of quantum physics, which substantiates how the mind affects the body, it provides practical applications of principles that guide you to making your consciousness strong enough to transform your body.
From Patricia's own inspiring story to the techniques for changing your awareness of yourself and food, the book takes you on a journey-an adventure in discovering who you are and how to gain power, step by step, over what has been running your life.

"Freedom From Food is a small masterpiece. It takes us into a deeper field of reality where thought creates and applies principles and practices to the most physical aspect of our lives. Demonstrating this "Quantum Weight Loss Approach" not only serves to regulate our bodies but also our whole lives. I recommend it to everyone."
—Barbara Marx Hubbard, Author of Emergence and Conscious Evolution: Awakening Our Social Potential